KUSTUM KRETE SP FEATURING OUR NEW HEAT RETENTATIVE POOL WALL SYSTEM™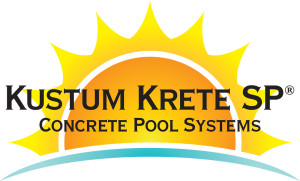 THE KUSTUM KRETE SP CONCRETE POOL FEATURING OUR NEW HEAT RENTENTATIVE POOL WALL SYSTEM™
In Western Pennsylvania, pool builders have struggled over the years with its rolling hills, valleys and groundwater. The terrain found here is far from conducive for inground pools. Flat backyards are not the norm. Most properties have some level of grade differential requiring retaining walls or other grading considerations. Swimming pool installations are further compounded by groundwater conditions, clay, and bedrock.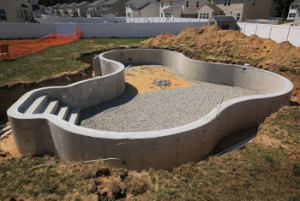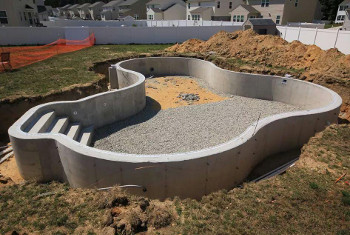 Pool Pros offers an exclusive system known as Kustum Krete SP Heat Retentive Pool Wall System™. This trademarked system utilizes poured concrete wall similar to contemporary poured foundations, only thicker and heavier and with steel rebar to add to the structural support. These concrete pool walls may be customized and extended adding tremendous strength to the pool as well as eliminating the need for retaining walls.
This unique pool wall system significantly retains heat over traditional pool constructs specifically steel and fiberglass pools. This will save our Kustum Krete pool owners thousands of dollars in energy cost savings.
The Kustum Krete pool can be built in virtually any backyard. This type of concrete wall system is often utilized by elite pool builders as seen on the Animal Planet and Discovery channels. 
THE KUSTUM KRETE ADVANTAGE: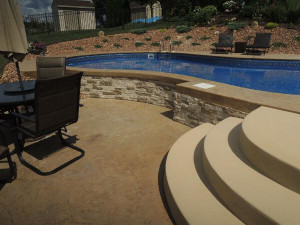 strongest pool walls available

 

 

indefinite lifetime

 

retains heat…drastically reduces pool heating costs

 

virtually any size or shape

 

resistant to problems created by groundwater

 
KUSTUM KRETE SP…better yet…we offer this elite concrete pool system with a vinyl lining option, making it affordable in today's market period. Pool Pros has been awarded a registered trademark for this unique system. As previously mentioned, the Kustum Krete pool is especially conducive to the uneven terrain found in western Pennsylvania and may be designed to fit the most difficult back yards.
For additional detail on the KUSTUM KRETE SP building process, please click here.
To see a variety of the style of pools available from Pool Pros, click here.
To view our 2020 Kustum Krete Brochure, click here.