The KUSTUM KRETE SP featuring our HEAT RENTENTIVE POOL WALL SYSTEM CONSTRUCTION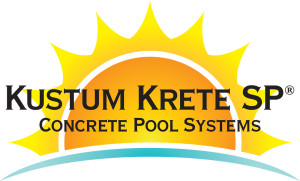 The KUSTUM KRETE SP Heat Retentive Pool Wall System is Pool Pros' exclusive and revolutionary new system for building swimming pools. The process is comprehensive and covers the entire pool building project, specifically the pool walls, pool bottom and the concrete deck.
Let's Start with the Pool Walls.
Each KUSTUM KRETE SP Process pool begins with a unique concrete wall system. With our exclusive forms system, we can configure the walls to build any size or shape pool imaginable, on almost any terrain! The concrete poured walls are thicker and stronger than anything on the market today.
solid ten inch think concrete walls
full four foot wall height (six inches higher than conventional package pools)
heavy 4000 PSI poured monolithic wall layout
structurally reinforced with an interior steel grid
far stronger than premium pool kit
KUSTUM KRETE SP walls: 
will not rust
cannot buckle
will not corrode
cannot collapse
are impervious to damages associated with salt generators, ground electrolysis, acid rain or chlorine products
provide structural support for the concrete decking, minimizing settling and cracking
The Pool Bottom
The KUSTUM KRETE SP pool bottom is among the thickest and most durable in the swimming pool industry.
To start, we utilize what is referred to as a "Central Mix" process. This process begins at the actual concrete plant and provides product uniformity. The mixing process takes place at the plant, not in the truck or at the pool location. This special pool bottom is a formulation of Type 1 Portland Cement (meeting all ASTM requirements), an evenly distribute stabilizer and high quality masonry sand.
The process:
removes the guess work from individual concrete truck operators
eliminates mixing errors associated with portable mixers
allows for a smooth, glass-like surface
Visit our Facebook page (click here) to see more example of our Kustum Krete SP(R) Process Pools.
The Vinyl Lining
We install the highest quality virgin vinyl liners in our KUSTUM KRETE SP swimming pools. We use American manufacturers exclusively, not the commonly available foreign vinyl. Our beautiful liners are sun-resistant, durable and are backed by the best warranties in the industry.
Decking and Walks
The KUSTUM KRETE SP system allows for concrete decking that is 100% stronger than traditional pool patios. Our unique bracing system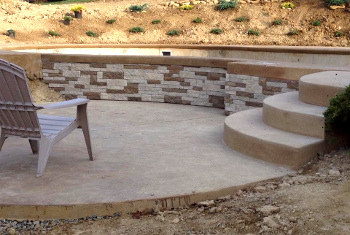 utilizes extra thick steel rebar which is strategically placed for uniform and even concrete pouring. This process maximizes deck strength and minimizes settling.