Fiberglass Pool Anchoring System and Rhino-Loc Construction
As a means of revolutionizing fiberglass pool construction, our Fiberglas Pool Anchoring SystemTM and Rhino-Loc Construction Methodology secures your investment, protecting your pool fro hydrostatic pressure caused by ground water around the outside of the fiberglass pool shell.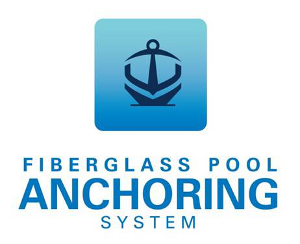 The Fiberglas Pool Anchoring SystemTM uses two technologies, the Geo-Hydro Valve and the Geo-Anchor Fiberglass Pool Wall to eliminate risk and allows the pool warranty to remain in place even when the pool is drained. The Geo-Hydro Valve controls ground water pressure preventing the pool from floating out of the ground by relieving any ground water pressure through an easily assembled hydostatic relief valve. The Geo-Anchor Pool Wall uses a specially formulated geotextile material that is affixed to the pool walls during the manufacturing process. The material is rooled up and strapped to the sides of the exterior pool walls. At different stages in the backfill process, the material is rolled out and covered with the approriate backfill material thus locking the pool to the earth.
Rhino-Loc is our unique installation methodology that virtually eliminates the source of major fiberglass pool installation problems such as settlement or shifting of the pool shell, leaks in plumbing lines and other fittings, separation between the pool and patio, and bulges in the side walls of the pool.
The components of Rhino-Loc Construction that insure your pool stands the test of time include:
Our "Rhino-Rod" that fuses the pool shell and patio together
12″ thick concrete bond beam around the perimeter of the pool
Crushed/chipped stone backfill material
All Schedule 40 PVC hard pipe
Plumbing straps that secure the plumbing to the pool shell
Pressure testing the entire plumbing system
Sump pump for monitoring/removing ground water